Need work, health and
wellbeing support?

If you live in North, East, or South East London, the Local London Work and Health Programme can help you.
Our support is quick to access, free to use, and matched to your needs.
We can help you to:
Build your skills and confidence
With our training
and advice
Access wellbeing support
Via our health-qualified
key workers
Find a job or
self-employment
With access to vacancies
and work trials
If you are of working age and can answer 'yes' to these statements, then we are here for you:
I live in Barking and Dagenham, Bexley, Bromley, Enfield, Greenwich, Havering, Newham, Redbridge or Waltham Forest

I've been unemployed for 2+ years, or receiving benefits

I have a health condition, disability or use substances

I'm a veteran, reserve or partner of a member of the UK Armed Forces, on probation, victim of domestic violence, homeless, refugee, carer, ex-carer, care leaver, or young person involved in a gang.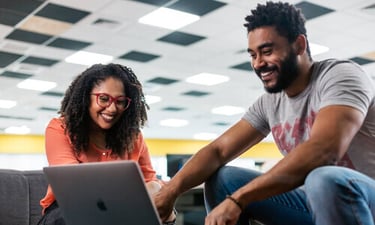 Call us today on 0300 456 8110
Speak to your Jobcentre Plus Work Coach
Work with us
If you are an employer, visit our dedicated partner portal to find out how we can help with your recruitment needs.
If you would like to work with us, join our Community Partnership Network by visiting https://www.maximusuk.co.uk/CPN
We've already helped thousands of people

like you
"The support from Maximus was a massive step up. They were understanding and friendly which made me feel at ease, and I'm much more confident now.

"
About Local London
Local London is a sub-regional partnership of nine boroughs responsible for commissioning the UK Government's Work and Health Programme in North, East and South East London. The programme is co-financed by the European Social Fund and the Department for Work and Pensions.