Need work, health and
wellbeing support?
The Work and Health Programme on behalf of Seetec Pluss helps you learn new skills and find work.
Our support is quick to access, free to use, and matched to your needs.
We can help you to:
Find the right job or
self-employment
With skills, training
and advice
Access 24/7 online support
Including health, skills and counselling services
Get specialist
help
To overcome
your challenges
If you're 18+ and can answer 'yes' to these statements, then we are here for you:
I live in North Hampshire, Surrey, or West Sussex

I'm unemployed, want to find work, and have been receiving benefits for more than two years

I have a disability or health condition

I'm a carer, ex-carer, care leaver, former armed forces, armed forces reserve, partner of former armed forces, homeless, refugee, dependent on drugs or alcohol, an offender (still on probation), or ex-offender.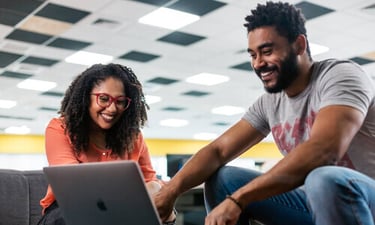 Work with us
If you are an employer, visit our dedicated partner portal to find out how we can help with your recruitment needs.
If you would like to work with us, join our Community Partnership Network by visiting https://www.maximusuk.co.uk/CPN
This programme is co-financed by the European Social Fund.