Supporting you back into work
Work and Health Programme Wales helps you learn new skills and find work.
Our support is quick to access, free to use, and matched to your needs.
We can help you to:
Learn new skills
With access to training
and wellbeing services
Find a job
With CV, interview and
careers advice
Do well at work
With ongoing support once
you're in work
If you are of working age in Wales and fall into 'one' of these statements, then we are here for you:
I'm unemployed, and have been receiving benefits for 2+ years

I'm a veteran, reserve, partner of a member of the Armed Forces homeless, young person in a gang, have a drug or alcohol addiction, ex-offender or serving a community sentence, ex-carer, care leaver, refugee, or victim of domestic violence.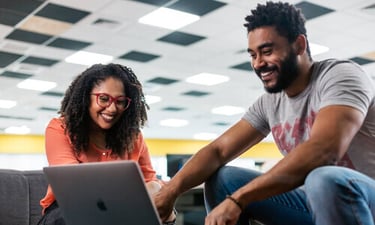 Call us today on 0300 456 8025
Speak to your Jobcentre Plus Work Coach.
Work with us
If you are an employer, visit our dedicated partner portal to find out how we can help with your recruitment needs.
If you would like to work with us, join our Community Partnership Network by visiting https://www.maximusuk.co.uk/CPN
We've already helped thousands of people

like you
"

Remploy has been great. They never gave up on me, picking me up when I was down, giving me a purpose and believing in me. All that made me more determined. If you have good people supporting you, you can do whatever you put your mind to

.

"